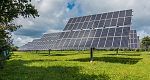 Heatwave sees solar power soar
Published: 04 Jul 2018
The current UK heatwave saw solar power briefly take over from gas as the primary energy source. The data came from the Government and National Grid-backed Sheffield Solar PV_Live project.
After a few years of virtual flatlined solar installations, a series of warm, cloudless days have seen high power generation.
Between 21 and 28 June 533GWh of power were produced, which broke the record for weekly output. It also produced more than 75GWh of power on five of those seven days, another record.
Additional data compiled by Sheffield Solar PV_Live showed that instances like these are becoming a trend since the first quarter of 2018 when renewables' share of electricity generation in the UK topped 30% in the first three months of the year.
Duncan Burt, director of system operations at National Grid, said, "During the past 12 months alone, we have seen renewable generation records broken and we expect this trend to continue, as technology advances and we find new ways to accommodate and manage more wind and solar power on our network."