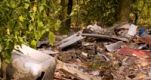 Call for Evidence on waste crime
Published: 13 Jun 2018
The fight against waste crime has taken a significant step forward, with the announcement of a comprehensive review aimed at tightening the Government's approach.
Waste criminals act illegally to evade landfill tax, undercut responsible waste disposal businesses, operate illegal waste sites, export waste illegally and fly-tip. Their activity cost the English economy more than £600 million in 2015 and more than 850 new illegal waste sites were discovered in 2016-17. This review is the next step in the ongoing work to tackle the problem.
The launch of "A call for Evidence" will enable a wide discussion on ways to crack-down further on Organised Crime Groups, who profit from waste crime.
Lead by the Department for Environment, Food and Rural Affair's (DEFRA) Non-Executive Director, Lizzie Noel, the review will consider:
the extent and nature of crimes being committed;
characteristics of organised crime groups involved;
examples of environmental, community and economic impacts;
examples of where response to the threat is working well, or less well;
views on Environment Agency, police, National Crime Agency (NCA) and local government responses;
suggested improvements to prevention and law enforcement.
Lizzie Noel commented: "The health of our communities, environment, and economy is being harmed by organised groups committing serious waste crimes.
This review is an opportunity to properly understand the extent of this criminal activity, and I look forward to working with a range of partners to ensure our response is robust and effective."
The announcement builds on new measures introduced by the Government to tackle waste crime. These include powers for the Environment Agency to lock the gates to problem waste sites to prevent waste illegally building up, and forcing operators to clear all the waste at such sites.
In addition, extra powers have been given to councils, making is easier for them to stop, search and seize vehicles suspected of being used for fly-tipping, and to issue on-the-spot fines to fly-tippers.
For more information, see: