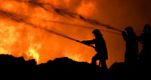 Recycling company racks up costs of over 380k after fire breaches environmental regulations
Published: 13 Jun 2018
Lincolnshire-based recycling company Mid UK Recycling Ltd. have been handed down a fine of £100,000 following a serious fire at their premises at Barkston Heath, Ancaster, in July 2015.
The large fine comes in addition to orders to pay costs in the region of £50,000, and the company also agreed compensation to the sum of £230,000 to the Lincolnshire Fire and Rescue as a consequence of the blaze.
As a result of the fire, 90 firefighters were called to the scene and nearby roads were closed due to the large amount of thick smoke. Residents were also advised to stay indoors and shut windows and doors. The blaze burned for nearly a week before finally being deemed extinguished.
The fire broke out spontaneously, destroying a stockpile of waste consisting of carpet, mattresses and plastic bottles. Inspectors had previously found that it was around several hundred tonnes, piled to nearly 10 metres in height and with no appropriate fire breaks.
Mid UK did not remove the waste as requested, and were served an enforcement notice in July 2014, with which it not comply.
The sentencing was passed by Judge John Pini, QC, who stated that the company, who have contracts with a range of local authorities to collect recyclable waste, have a "history of not complying with guidance and enforcement notices."
Judge Pini spoke during the sentencing, stating that "the repeated guidance and the failure to heed it properly, with knowledge of the risks, is to a considerable extent what grounds recklessness as opposed to negligence."
The owner company of the site, MC Mountain and Sons Ltd. and the managing director, Mowbray Christopher Mountain, pleaded guilty to five charges of breaching planning and environmental legislation and failing to comply with an enforcement notice, but no separate penalty was given.
Mountain said that, since the fire, the company had made changes and had a bespoke fire prevention plan from the Environment Agency.