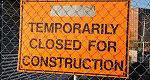 Cedrec.com closed for maintenance on Saturday 24 February 2018
Published: 22 Feb 2018
Hello readers, visitors and subscribers!
This is a quick note to let you all know that cedrec.com will be closed for essential maintenance on 24 February 2018.
We've opted to carry out this work on a Saturday in the hope this will cause the least disruption to you and your work.
We'll be back up and running on 25 February, so fear not!
Thanks!
Cedrec Team.