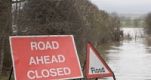 750-home development plan objected by SEPA due to flood risk
Published: 13 Feb 2018
The Scottish Environmental Protection Agency (SEPA) has lodged an objection to a plan for an 750-home development at Govan Graving Docks in Glasgow, after concerns over the flood risk to that development.
Govan Graving Docks site was derelict for 40 years and recently two companies unveiled plans to create a riverside housing estate right next to the River Clyde. Both companies planned to build a series of homes ranging from four to 15 storeys in height.
However, SEPA has warned, that "significant parts of the site" are within a high risk of flooding. In a statement, SEPA stated: "Our flood risk and planning experts do not consider the proposed flood risk management measures set out within the planning application to be sustainable and we have significant concerns regarding the flood risk for the site.
"We object in principle to the planning application on the grounds that the proposal may put buildings and persons at flood risk contrary to Scottish Planning Policy and our position is unlikely to change."
For more information on this subject, see: