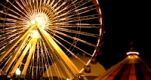 Big wheel won't be turning
Published: 05 Dec 2017
A 100 foot ferris wheel erected at Barry Island Pleasure Park will not be up in time for Christmas following a planning dispute with the local council.
The owner, Henry Danter, built the attraction back in October without planning permission. In their original correspondence, the Vale of Glamorgan Council explained to Mr Danter that it was an unauthorised development and there were also concerns about the resurfacing of the funfair and engineering works.
As a result of the dispute, Mr Danter removed the big wheel and confirmed that this Christmas it will be used at Clapham Common instead, though he vows to return it to Barry Island as soon as the planning dispute is resolved.
Mr Danter has since admitted that the big wheel was too high, but has now applied for planning permission. Jonathan Bird, Vale of Glamorgan council's cabinet member for regeneration and planning, said, "At no time has Mr Danter informed the council of the intention to erect a new wheel and no advice has been sought as to the need for planning permission. That aside, it is important to stress that despite writing to Mr Danter to advise him of the need for planning permission for the new wheel along with other outstanding planning issues which remain unresolved, at no point was Mr Danter asked to take down the ferris wheel, neither was any other enforcement action taken against him in relation to the structure."