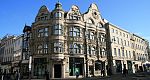 Consultation on traffic-free Oxford Street
Published: 07 Nov 2017
A second Consultation has been launched on plans that could see London's Oxford Street become a traffic-free area.
The Consultation proposes to restrict all east-west traffic from entering Oxford Street between Orchard Street and Oxford Circus, while maintaining north-south routes through that section. This aim is to make the area more pedestrian friendly, and reduce air pollution.
The centre is proposed to be raised to existing pavement level, with new seating installed later. If all goes as planned the first stage of the scheme would coincide with the launch of the Elizabeth line through central London in December 2018.
Sadiq Khan, Mayor of London, said:
"Alongside the arrival of the Elizabeth Line, the Oxford Street area will be truly transformed over the coming years. We will continue to work closely with residents, businesses and Westminster Council to ensure the plans are the very best they can be, including investing in wider pavements, pedestrian crossings, more taxi ranks and further high-quality cycling infrastructure to support everyone living and working in the wider area."
The first Consultation asked opinions of initial ideas, and this second Consultation asks for opinions on more final and detailed plans.
The link for the Consultation can be found on the Transport for London website here.