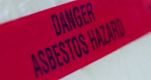 HSE consults on asbestos medicals
Published: 06 Oct 2017
The Health and Safety Executive (HSE) have launched a month long consultation on proposals to reduce the frequency of statutory health checks for workers who carry out licensed work with asbestos. The aim is to change from every two years, to every three.
They are seeking views on plans to amend the Control of Asbestos Regulations SI 2012/632 to align the periods between medical examinations for those employees involved in licensed and notifiable non-licensed work. It's a change that will implement one of the findings of the HSE's post implementation review (PIR) of the Regulations published in March this year.
The PIR report involved a consultation exercise and survey on the impact of the Regulations, and essentially concluded that they remain fit for purpose. However, they did include a small number of recommendations, one of which was the idea of aligning the two types of medical checks at three year intervals. They argued that the Regulations current requirements went beyond those in Directive 2009/148/EC, which the Regulations implement into UK law.
According to the consultation, the proposal to change the frequency of medical examinations "streamlines the medical surveillance requirements of the legislation but does not represent a reduction in worker protection". If the responses to the consultation are for the changes, the HSE board and the Government will then need to approve the proposals put forward by the HSE. It will also be necessary to amend the ACoP L143, Managing and working with asbestos.
The consultation began on 2 October 2017 and ends on 30 October 2017.
For more information, see: