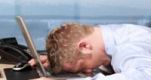 Almost a third of fit notes related to mental health
Published: 12 Sep 2017
An NHS study has shown that almost one third of fit notes relate to mental health conditions. A massive 31.3% of fit notes with a known diagnosis were for mental and behavioural disorders in 2016 to 17 compared to 18% for diseases of the musculoskeletal system and connective tissue.
The research covered data on electronic fit notes issued in GP practices throughout England over 28 months from December 2014 to March 2017. Data showed that more than five million people are being signed off work every year.
Mental health and behavioural conditions were the most common by far, with a 14% rise in notes relating to anxiety and stress in one year. The length of a fit note also varied depending on the reason for it, with 21.5% of mental and behavioural episodes lasting more than 12 weeks.
The head of the NHS, Simon Stevens commented:
"These figures explain why the NHS is now putting mental health front and centre... When it comes to mental health, what's good for patients is also good for taxpayers, because untreated mental health problems directly affect work, unemployment and benefits".
The research also showed that one fit note per 48 patients aged 18 to 65 years, were issued by GPs on average each month.
6.5% of fit notes reported were classified as "may be fit for work", with four out of five of these recommending an adaptation in the workplace, working hours or duties to help adjustment back into work.
The report has been taken from the introduction of the new "Statement of Fitness for Work" system by the Department of Work and Pensions. It was intended to encourage employees back to work more quickly, by improving access to treatment and finding ways to ensure pressures were manageable.
Dr Steve Mowle, spokesperson for the Royal College of GPs stated:
"We know that working is beneficial for our patient's long term physical and mental health and wellbeing, and we need a society-wide approach, including involvement from employers, to put measures in place to get people back into work, where possible, safely and appropriately."
In the future, NHS Digital plan to publish similar data on a quarterly basis in October, January, April and July.