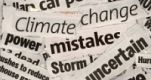 Commonwealth Bank sued for failing to disclose climate change risks
Published: 09 Aug 2017
The Commonwealth Bank is being sued by two shareholders of the organisation for failing to fully disclose the risks to business posed by climate change.
The Commonwealth Bank made the alleged omission in the annual reports, delivered to shareholders. The suit also includes a petition to impose an injunction on the bank to prevent a recurrence of the omission.
The suit comes six months after the Australian financial regulator stated that climate change posed a very real "material risk" to the financial system and urged businesses to report on climate change-related risks as financial risks, rather than only environmental and ethical issues.
Cedrec's take
This report originates from Australia, where a move to report on climate change as a risk to business and the economy is a growing movement, attracting the support of over 400 investors, with a combined fund of nearly £17 billion.
The idea of presenting climate change as a financial risk has become increasingly popular the world over. Now, sustainability is viewed as not only a way to use resources sensibly and thoughtfully, but also a way to create value for businesses practising it.
The benefit of presenting issues such as climate change as threats to business is that more businesses will pay attention. It is disheartening to realise finance comes before the environment for many, but the outcome will hopefully mean better resource allocation, more "green energy" investment and a larger interest in protecting the environment.