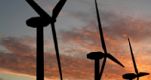 First floating wind farm to settle off coast of Scotland
Published: 12 Jul 2017
In a move hailed as an indicator that the oceans are the next avenue of energy generation, a £200 million floating windfarm is ready to be towed to the mooring post off the north east coast of Scotland.
The Hywind project uses a 78 metre tall underwater ballast and three mooring lines, attached to the seabed to keep the turbines upright.
The developer is Norwegian Statoil, who are currently attempting to diversify away from fossil fuels.
The North Sea is a notable favourite for the current offshore windfarms used, due to the shallow depths, allowing the turbines to be mounted to posts fixed into the seabed. These kinds of windfarms are therefore limited to waters with that shallow depth of no more than 40 metres, so steep shelved coasts such as those of Japan are unable to capitalise on offshore windfarms.
In contrast, floating windfarms present an opportunity for offshore wind energy. Head of Statoil's low carbon division, Irene Rummelhoff, stated: "Currently, we are saying [floating windfarms will work in] water depths of between 100 and 700 metres, but I think we can go deeper than that. It opens up ocean that was unavailable."
Cedrec's take
It's great to see Scotland become home to this world first. Offshore wind is highly useful in divesting from fossil fuels, and the more we can utilise the offshore renewable sector, the better. By opening up the vast oceans as homes for renewable energy generation, we can remove the bickering and debate of onshore windfarms, hugely contested points, especially in the semi-rural and rural locations they are best suited to.
It's especially good to see that the developer is a "traditional" fuel company, and Statoil and others like the Norwegian company should be applauded for their willingness to adapt, develop and diversify their businesses to suit the needs and capabilities of the environment.