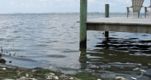 73 per cent of UK beaches polluted with plastic
Published: 17 Feb 2017
73% of the UK's beaches have been found to be littered with tiny plastic "nurdles" in a study on 279 shorelines.
The plastic pieces are the size of lentils and are used as a raw material to make plastic products.
The effect on wildlife, including fish and birds, can be extremely serious, with the animals ingesting the plastics.
The findings will be added to a Government consultation on microplastics.
Steps are being taken to reduce plastic pollution, with retailers such as Body Shop, John Lewis and Mothercare committing to changing their plastic stem cotton buds to paper stem.
Madeleine Berg of Fidra, a Scottish environmental charity says the findings show that action is needed.
Ms Berg said: "Simple precautionary measures can help spillages and ensure nurdles don't end up in our environment."
"We are asking the UK government to ensure best practice is in place along the full plastic supply chain, and any further nurdle pollution is stopped."