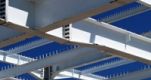 Manchester project causes heritage concerns
Published: 16 Feb 2017
A £200 million development proposal has been submitted to Manchester City Council by former professional footballers Ryan Giggs and Gary Neville. The pair aim to transform an area of Manchester through the development scheme which includes a 200-bed five-star hotel, 153 apartments, 135,000 square feet of offices and a synagogue. One of the proposed skyscrapers would also include retail and leisure space including restaurants.
However, the proposed development has attracted criticism from campaign groups and English Heritage, who are all concerned about the impact the development would have on the heritage of the area.
If the project went ahead, the Sir Ralph Abercromby pub (which apparently inspired the BBC drama 'Life on Mars') and a former police station would have to go. A Synagogue would also be under threat from the proposal. Historic England has raised concerns that the development would threaten the city's heritage.
Catherine Dewar, Historic England's planning director in the North West, said, "It would have an impact on people's appreciation and experience of the stunning town hall and library but it would also erase different layers of this area's history, irreparably damaging the special character of the surrounding conservation area." Ms Dewar added, "A dynamic city like ours needs to fully embrace development but this scheme is not good enough to justify the damage it would cause to the streets around the site and to the setting of the city's most important buildings and spaces."
Mr Giggs and Mr Neville have stated that the development scheme would create 1,000 jobs, with Mr Neville stating that the project would be "one of the biggest statements in architecture in modern times in Manchester".