We're celebrating at Cedrec!
Published: 20 Jul 2012
We're feeling our age a bit at Cedrec Towers, but celebrating the fact that 2012 will mark our 18th anniversary of legislation made simple!
Back on 24 May 1994, Cedrec Environmental was born in a tiny office in the centre of Sunderland. Offering summaries of legislation. For England and Wales. On floppy disk.
Fast forward 18 years and things have moved on considerably. A Full Text CD version followed, along with legislation for Scotland and Northern Ireland. We expanded to cover health and safety and most recently to an online system. Our ethos has always remained the same - we make legislation simple.
We have grown from a team of only two members and we have created jobs in finance, marketing, health, safety, environment and legal writing and have even taken part in recruitment through apprenticeship schemes.
To celebrate our 18th birthday for the first of our promotions we'll be offering those customers who are considering signing up to Cedrec an 18 day no obligation free trial of the full product!
Try it here.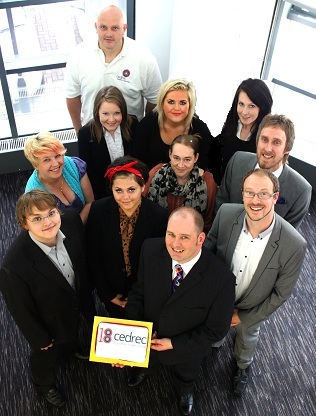 Some of the Cedrec Team who support you: From left to right: Steven Pearson, Amber Dennis, Steven Armstrong, Gareth Billinghurst, Neil Howe, Julie Greathead, Julia Bradley, Erin Shaw, Dainee Brown, Leanne Burke, and Mark Robinson.